Paraplegics can learn to walk again through intensive training. To achieve this, they need strong will, time, and modern robotic mobilization equipment.
These amazing stories do exist; people who were told by doctors that they would never walk again and a few years later are back on their feet and moving around independently.
That is exactly what happened to Rashide Serifi (age 25). When giving birth to her son four years ago she was given an epidural injection for the pain, which caused meningitis. This was followed by six operations, long stays in the hospital, and finally the diagnosis: Paraplegia. Bacteria had invaded her spine and caused a build-up of pus. Doctors told her that she would now be confined to a wheelchair. Rashide, was not prepared to accept this outcome.
Rapid progress on machines
Rashide found a therapy center in Germany, where she received intensive training with therapists and robotic equipment. The machines allowed Rashide to train much longer and harder than with the support of a therapist alone. This took her to her physical limits time and time again, allowing her to strengthen her legs and core muscles. After several months, the young mother took her first steps with the help of crutches. A little later, she was even able to cover short distances without support.
«Every device has a different role to play»
Robotic rehabilitation is relatively new. Nevertheless, specialists are becoming more and more aware of its significance, and many therapy centers are now using these aids. Swiss company Hocoma's products are often the ones used. Rashide Serifi did all of her therapy on these devices, from the first phase through to out-patient treatment.
The devices have very different roles to play in the various stages of therapy. Hocoma's range of robotic solutions is comprised of the following:
Robotics allow for more intensive therapy
"Our robotic devices alone don't perform miracles," says Matthias Jörg, developer and founder of Hocoma. "However, they facilitate much more intensive therapy, and that is key. When a child learns to walk, they don't do it once or twice a week, but rather practice more or less around the clock." Robotic devices also make it easy to measure progress made, and motivate patients with fun incentives.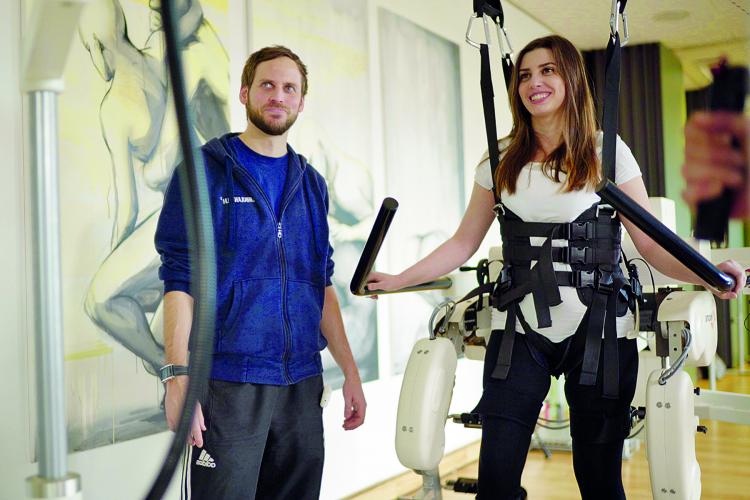 The success speaks for itself. More and more clinics and rehabilitation centers are using Hocoma products. Around the world, over 2000 units are now being used to treat neurological movement disorders, strokes, and incomplete paraplegia.
Easy control of DC motors
All of these robotic mobilization devices are equipped with maxon drives and controllers. Hocoma and the Swiss drive specialist have a long-standing relationship. "We really enjoy working together. maxon offers a variety of solutions, and also allows for individual adjustments," says Jörg. He and his colleagues in development particularly appreciate the drives' high power density and dynamics. In addition, brushed DC motors are easy to control. In both the Lokomat and the Erigo, Hocoma uses RE 40 motors to move knees or hips. These are powerful and dynamic drives that, with the help of their ironless winding and high-grade magnets, achieve an efficiency of over 90 percent.
Hocoma's plans for the future of robotic mobilization equipment are focused on positioning itself even more firmly as a full-service provider. The aim is to harmonize the various devices perfectly with one another, and cover the entire range of therapy. 2000 of the Swiss company's products are already in use worldwide, and this figure is on the rise.