The IDX is a new compact drive consisting of a motor, gearbox, and controller. The responsible sales engineer Sébastien Gissien explains why maxon is taking a different approach with this product and which markets will benefit from the new drive.
Sébastien, with the IDX, maxon is presenting a new series of compact drives. What's behind it?
IDX drives are based on familiar maxon technologies, like EPOS4 electronics and the EC-i family of motors. The whole unit comes with a housing to protect against water and dust (IP65)
That's all well and good, but aren't there such drives on the market already?
Of course. However, our IDX has a number of strengths to offer, of which I'm quite proud. For example, we achieve the same level of performance as our competitors, with a product that's about 25 percent smaller. The drives are also easy to integrate in any control architecture using an EtherCAT or CANOpen field bus. This is helped by the proven EPOS Studio software, which enables customers to commission an IDX drive in a very short time. Not least, our goal is to offer the IDX series via our online configurator as soon as possible – and this is something that's exclusive to maxon.
What prompted the development of the IDX?
The idea for a new compact drive was born two years ago at maxon France. We conducted a survey among our customers and other interested parties to learn about their expectations with regard to such a drive. We then formed an international project team based on these expectations. As such, the IDX is the result of a global maxon collaboration: The brushless motor is from South Korea, the gearhead from Germany, and the matching EPOS4-based electronics are from Switzerland, where a project team integrated all components into an overall system.
What are the intended applications for the drive?
Basically, the IDX series is suitable for any application that requires low-voltage BLDC motors. We're looking at several interesting developing markets. These include shuttles and AGVs (automated guided vehicles) for intralogistics, the packaging industry, agricultural robots, but also production machines with X, Y, and Z-axis movements.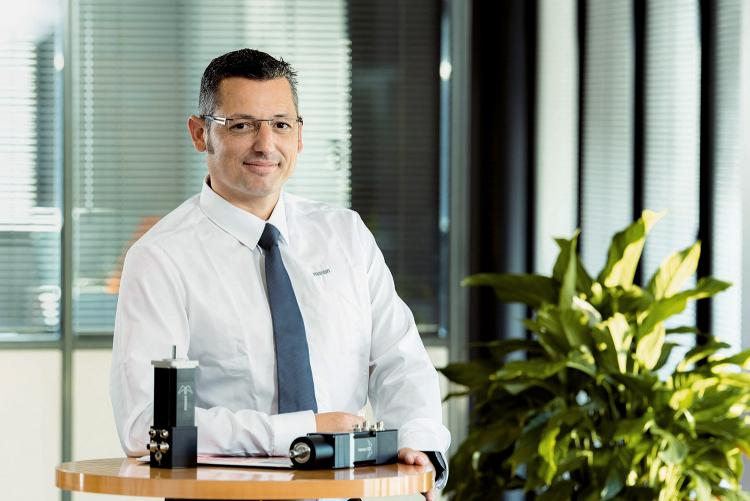 Why the intralogistics market in particular?
Intralogistics is a rapidly growing market with high requirements to productivity and efficiency. Our team has integrated these requirements and developed a product that is powerful, easy to use, and affordable.
When do customers ask for an integrated compact drive for their application?
By way of example, let's look at an AGV whose wheels need to be driven. The more compact the drive, the smaller the entire vehicle. This means that more AGVs can be used when space is limited, which in turn leads to higher productivity. With a pick&place machine, a customer can use compact drives to drastically reduce the amount of cabling and thereby the design complexity.
Is the IDX capable of making a contribution to the digital factory?
Yes. The drive is equipped with two temperature sensors, one in the motor and one in the electronics. Customers can use the real-time feedback for predictive maintenance.
Are there already applications in which IDX drives are used?
We are successfully using the drives in our own production lines in Switzerland. There are also some tests with AGVs and logistics shuttles.
What are the reactions?
The initial feedback has been very positive. Key customers who are already testing the IDX are looking forward to the launch of mass production. 
Thanks for talking to us.
Find out more about the IDX compact drive here.