In response to the COVID-19 pandemic, the Winnipeg Ventilator project had to make some critical choices in design and component selection, particularly for the motor used in the mechanical pump design.
Faced with a growth in the number of cases of COVID-19 worldwide, the Canadian government quickly took a concerned look at the number of ventilators they had available in the case of an overflow of hospital cases. Although the World Health Organization (WHO) understands that nearly eighty percent of people who attract the virus get better on their own; once a patient enters the hospital, the chances that they will need a ventilator can increase considerably. Essentially, a ventilator requires that a patient be intubated (a tube inserted past the vocal cords and into the airway and sealed to ensure proper flow), which allows air to be pumped into and out of the chest and lungs just like normal breathing until the patient recovers. With worldwide need, countries were quickly trying to fill the gap between number of patients needing a ventilator and the number of ventilators available.
The Winnipeg Ventilator 2.0 (designed and manufactured by StarFish Medical) is a mechanical ventilator for use in emergency situations to complement the availability of currently approved and marketed ventilators in case of a surge in cases beyond normal capacity The ventilator had to be very flexible in order to support a variety of patient needs at different times. For example, lungs can be very stiff or not stiff at all, and oxygen requirements under these conditions may vary widely. A ventilator must also be versatile enough to deliver a range of modes and oxygen concentrations dependent on patient responses to treatments.
The Winnipeg Ventilator is a cart-based system that is digitally controlled through the use of embedded firmware and a user interface consisting of various buttons, knobs, and switches. Measured parameters are displayed to the user on the analog and digital displays, allowing them to finely tune to the needs of each individual patient. The device monitors inspiratory tidal volume, airway pressure, %O2 and respiratory rate. It also includes a number of alarms geared toward recognizing when measured values fall outside of acceptable parameters. The expected duration of use per patient is up to fourteen days of continuous ventilation.
Some key features of the Winnipeg Ventilator 2.0 include compatibility with both wall and bottle oxygen sources, the use of ambient air rather than needing an air supply, and an intuitive and easy to use interface. Users needed to have ready access to all parameters and setting without complicated setting requirements. The units each have an integrated battery back-up power system and are easy to maneuver and transport.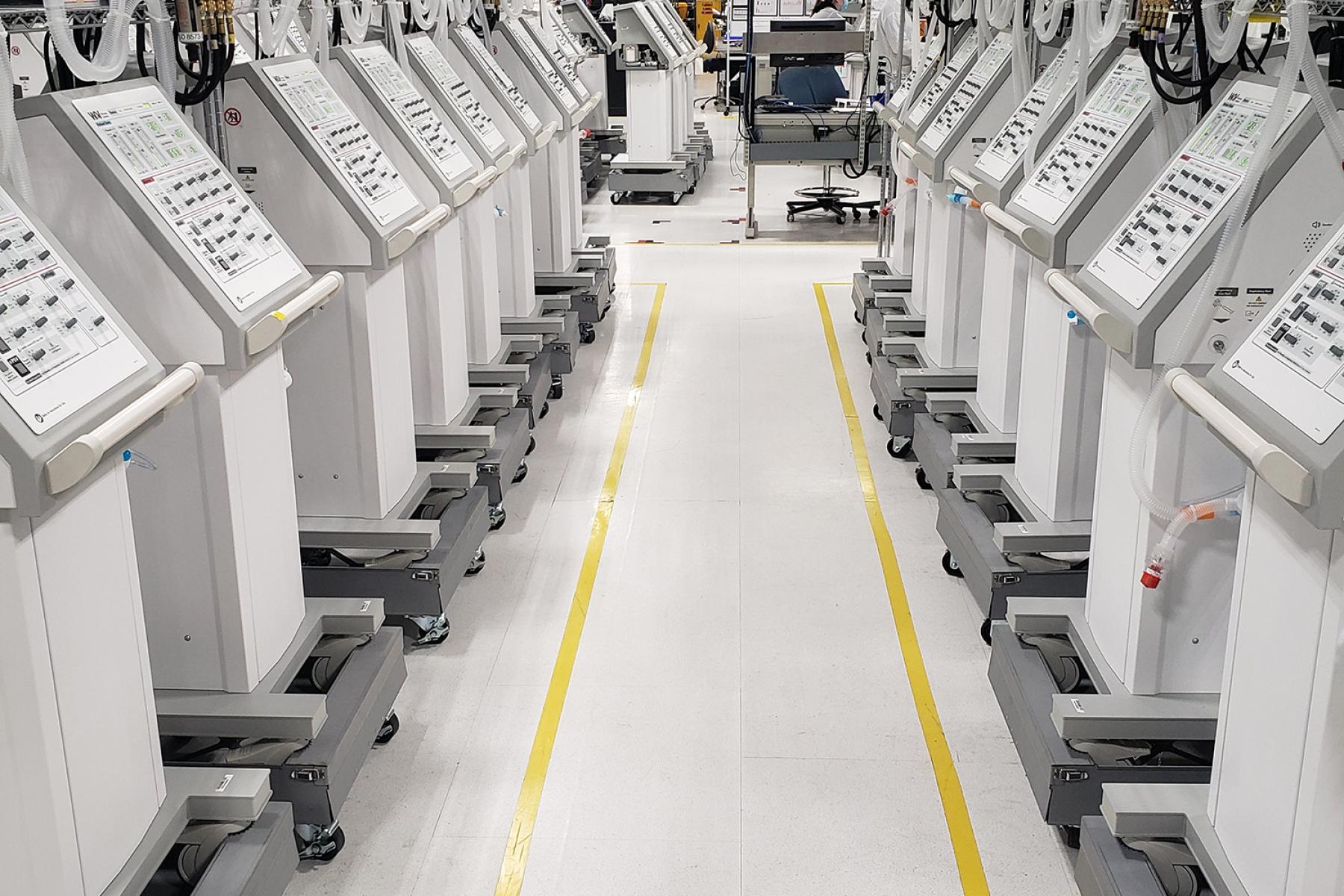 Motor Selection
StarFish Medical had used maxon's motors for a number of past projects and found them to be highly efficient but, most importantly, reliable. The motors are delivered with a great deal of useful technical data for each model, typically making it less of a challenge to narrow the choices down to a few options. Yet, the project was advancing so quickly that the StarFish Medical team was forced to make an initial motor choice in advance of determining the exact requirements for the project. The primary objective at the time was to find a motor that was readily available and provided enough of a performance margin to offer guaranteed success.
maxon technical support, in collaboration with the StarFish Medical design team, proposed a brushless motor without gearing that was selected based on the application requirements and availability to adequately supply the motor along with a short lead time. StarFish Medical factory capacity was secured through South Korea to meet the initial demand schedule.
Adapting the original design to use a brushless DC motor added some interesting challenges to the design process. Fortunately, the StarFish Medical team had prior experience in making such adjustments and were able to adapt their existing design plans to make the switch quickly and easily. As a balance to their design capabilities, StarFish Medical found the maxon electric motor straight-forward to use. StarFish Medical developed customized software and hardware to take full advantage of the motor selection rather than using an off-the-shelf standardized option.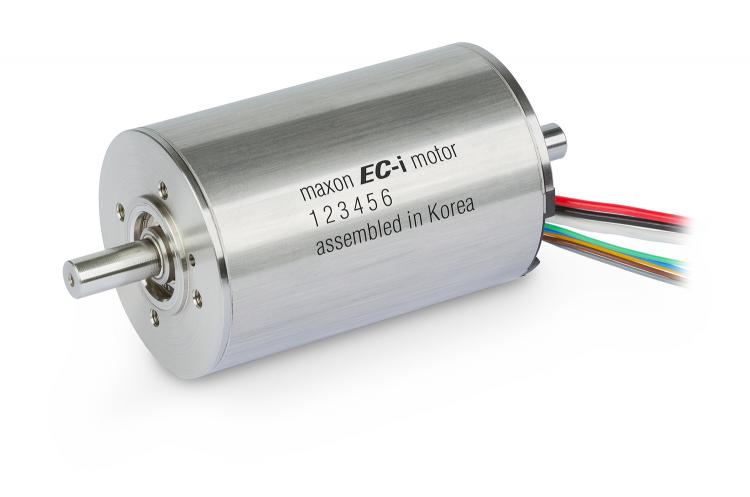 Ventilator Motor Requirements and Operation
The motor drives a ball screw actuator that controls the piston position to provide "breaths" from the ventilator to the patient. The StarFish Medical team chose a 200 watt motor, which gave them some maneuverability for variations in torque and speed. The requirements included a maximum speed of 215 mm/s, maximum acceleration of 7.2 m/s2, accel/decel ramp to a maximum speed of 0.05 s, and a number of cycles from 1.5M to 15M. One of the flexible requirements for the operation was for the system to very quickly change from an inhale stroke to an exhale stroke if the ventilator sensed patient distress.
StarFish Medical made an initial order of 7,500 EC-i52 motors with ENX Hall effect sensors (see image). Because of their optimized magnet ring, these motors offer a very high torque density and a low cogging torque. The multi-pole internal rotor is extremely dynamic. Overall, the motor's solid design, using steel flanges and a steel housing, makes it suitable for a wide range of applications where performance and long duty cycles are required.
Selecting the right motor for your design can take a sharp turn sometimes when availability becomes a primary factor. Working with a partner that has the experience and expertise in your industry and is sensitive to your delivery needs is key in making a selection that fulfills your requirements. In the case of the Winnipeg Ventilator, maxon was able to use their experience and knowledge from many years of working with medical companies to help make suggestions on product selection to meet StarFish Medical's urgent need.