At Cybathlon 2020 Global Edition, all of the attention will be focused on our main players: The teams. They are competing all around the world to be part of a unique event. Every fifth team uses maxon products. A small selection: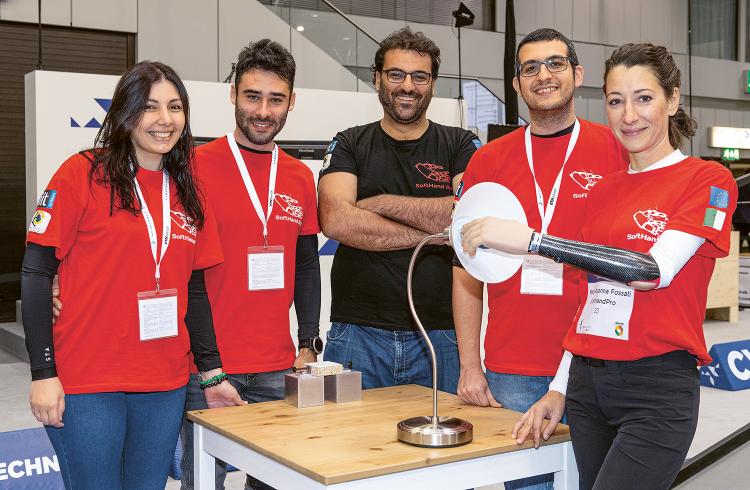 SoftHand Pro
The team from the Istituto Italiano di Tecnologia and the Centro E. Piaggio of the University of Pisa is racing with pilot Maria Rosanna Fossati. Maria particularly appreciates the flexibility and simplicity of the prosthesis and trains three times a week for the Cybathlon.
Maria says that people sometimes stare at her in crowded subway trains. With a look that says "Hey, are you actually harassing me?" She needs a few seconds to realize that she may have accidentally touched the person with her prosthetic hand. "I've never let on. My prosthetic hand looks very natural, so it's understandable that people think it's a real hand."
maxon products: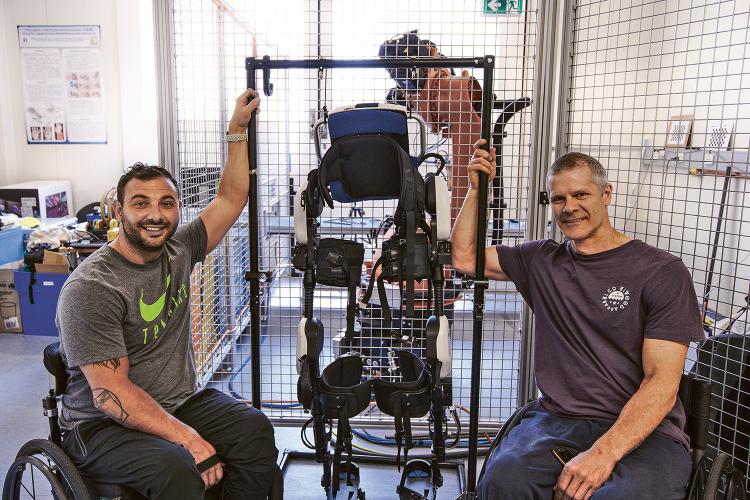 ALEX
ALEX stands for "Advanced Lower Extremity Exoskeleton" and consists of members from the Chinese company Fourier Intelligence and the University of Melbourne, Australia. The team has been developing an exoskeleton specially for participation in the Cybathlon since February 2019.
After pilot Lenny bought himself a new smart watch, he received "stand up and move" prompts twice a day, as the watch detected sitting in a wheelchair as "inactivity." This was later corrected through an update for wheelchair users. The story shows how wheelchair users are often forgotten when new technologies are being developed.
maxon products:
A brushless EC 60 flat motor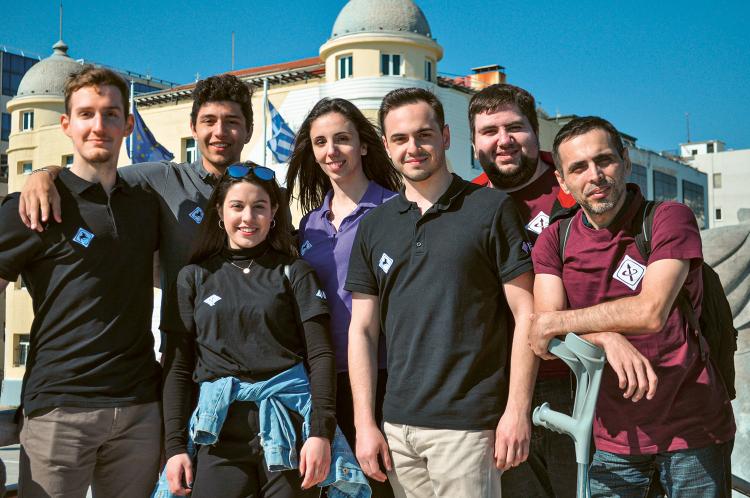 HERMES
HERMES was founded in 2018 and is the first team from Greece participating in the Cybathlon. The team wants to develop a fully functioning exoskeleton for people with limited motor function. It is being supported by maxon's Young Engineers Program (YEP).
The pilot knows: "The greatest challenge of an exoskeleton user is to get through the security check at the airport. You get held up by security personnel for a very long time and have to wait until they have examined the exoskeleton in detail."
maxon products:
4 special exoskeleton drives, consisting of a brushless flat motor with an encoder, a three-stage planetary gearhead and an EPOS4 controller.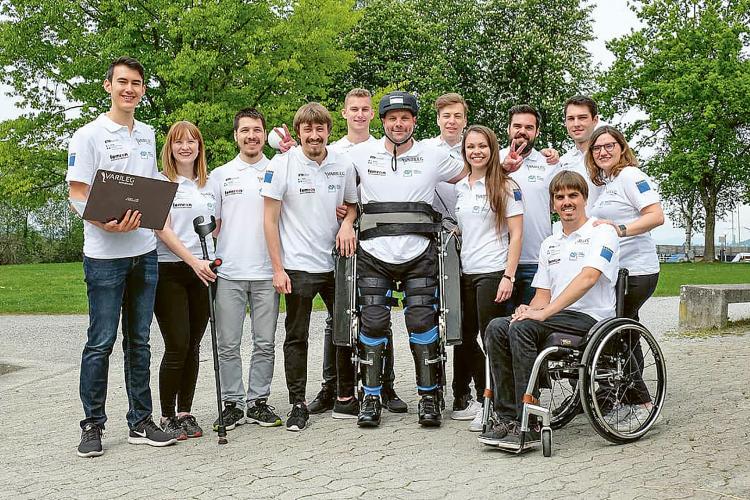 VariLeg enhanced
After Cybathlon 2016, the two universities − ETH Zurich and the HSR University of Applied Sciences Rapperswil − found that their competences complemented each other perfectly. The result is the VariLeg enhanced team, made up of students from different fields of study. They are developing an exoskeleton specially for the competition.
The pilot knows: "The greatest challenge of an exoskeleton user is to get through the security check at the airport. You get held up by security personnel for a very long time and have to wait until they have examined the exoskeleton in detail."
maxon products:
Four powerful EC 90 flat motors
RT-Movers
The RT-Movers team from Wakayama University in Japan will participate in the Cybathlon for the second time in 2020. What is special about their wheelchair is that it can climb stairs without a caterpillar system. Each wheel of the RT-Mover is independent. This allows the wheelchair to ascend and descend stairs at a certain angle, which has a positive effect on its energy efficiency and speed.
For pilot Kazumi Morita, an everyday situation comes to mind: Recently, he wanted to go shopping. However, his everyday wheelchair, which has two main wheels and small stabilizers, can only move on level streets. He was not even able to cross the shop's small threshold. Kazumi Morita ended up returning home without having done any shopping.
maxon products:
Several brushless EC-4pole motors, a brushed RE 40 DC motor, an EPOS4 Compact 50/15 CAN positioning controller, several GP 32 HP and GP 42 C planetary gearheads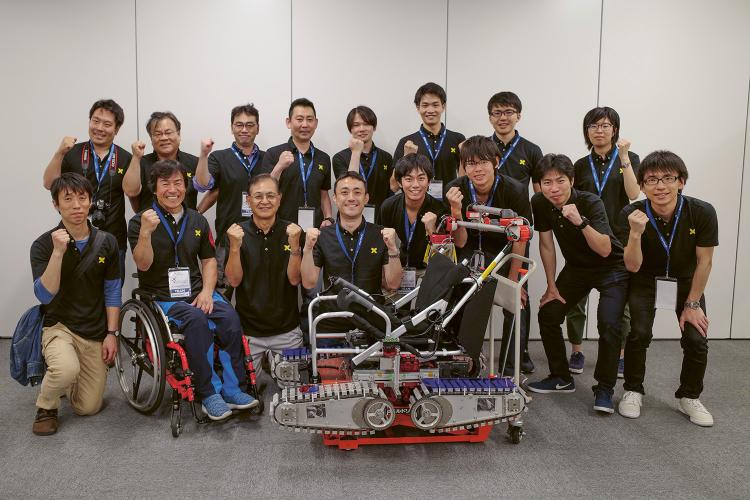 Fortississimo
The Japanese team Fortississimo from Keio University is new to the Cybathlon. In preparation for the event, the team took part in the Wheelchair Series in Kawasaki, where pilot Hiroshi Nozima managed to scoop 3rd place. The team's wheelchair is composed of four modules of wheel-track units with swinging arm mechanism. This system allows two modes of locomotion: the first mode provides a high degree of maneuverability on smooth, level ground while the second mode enables the wheelchair to generate sufficient traction for rough terrain or climbing stairs.
maxon products: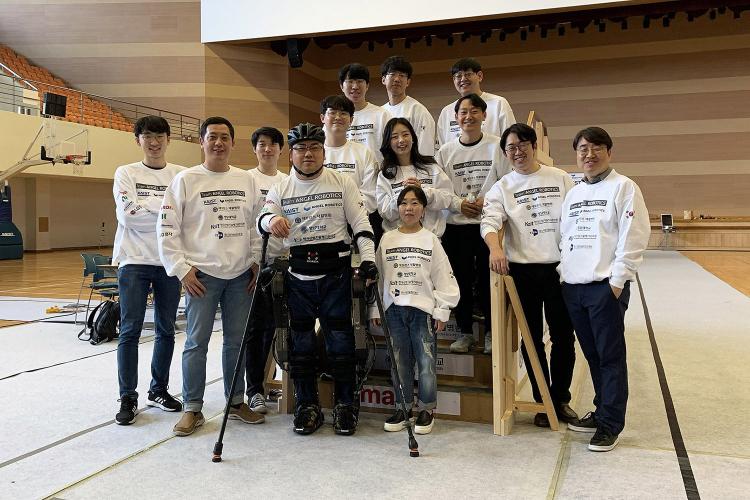 Angel Robotics
The team ANGEL ROBOTICS from South Korea is participating in the Cybathlon for the second time. The team with the pilot Byeongwuk Kim ranked third in the 1st Cybathlon 2016 in the powered exoskeleton race and they challenge for the improved record again this time.
ANGEL ROBOTIC's 'WALKON SUIT' extends beyond maximum movement range and joint rotation, including, but not limited to: walking on flat ground, climbing stairs and inclines, and walking on stepping-stones.
The pilot says "I want to deliver a message of hope to all the people amidst COVID-19 crisis through the races of overcoming obstacles with robotics technologies."
maxon Products:
EC 45 flat motors with MILE encoder and ESCON modules 50/8.
Cybathlon 2020 - Global Edition
Cybathlon 2020 will take place on November 13 – 14, 2020 – globally and in a new format, at the teams' home bases. They will set up their infrastructure for the competition and film their races. From Zurich, the competitions will be broadcast through a new platform in a unique live program. At the Cybathlon 2020 Global Edition, pilots and their development teams will show what they have achieved together over the past years and will offer the spectators an unforgettable competition experience.
maxon supports the event as a Presenting Partner globally.
More: www.cybathlon.com