Years of collaboration between maxon and the space experts at JPL led to the development of the BLDC motors which handle the valuable soil samples on Mars during the Perseverance mission. Meet maxon's specialists behind those actuators and find out what drives them.
Was there once life on Mars? To answer this question, NASA has sent its Perseverance rover to take soil samples that will later be brought back to Earth. This mission is the culmination of an incredible amount of preparation, hardwork, and the latest technology.
Inside the rover, 10 maxon drives handle the valuable Mars samples, which will then be placed on the Red Planet, where they will be retrieved and brought back to Earth by a future mission. The drives used are nine EC 32 flat motors and one EC 20 flat, combined with a planetary gearhead GP 22 UP. In addition, six DCX 10 motors are responsible for controlling the swashplates on the Mars helicopter, meaning that they determine the direction of flight.
The Red Planet still continues to fascinate. That is confirmed by the statements of the people at maxon involved in these projects. Here are their stories: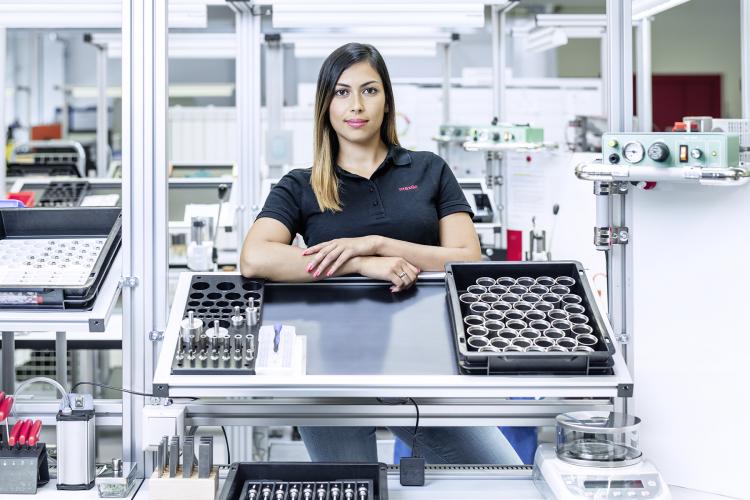 «I have a good feeling about everything functioning well on Mars»
Denise Hüglin, Production Mechanic in Prototyping
«I couldn't have asked for a better job,» says Denise. This is because her work in prototyping never becomes boring – regardless if it is for an aerospace, medical or robotics project.
But of course space drives are something special. Everything is more extensive: the processes, the tests, and the documentation. Additionally, Denise and her colleagues shoulder a great responsibility. But the team is capable of handling great pressure, have worked on the Mars projects of ESA and NASA for many years, and have grown together to become a small family.
This gives Denise a very good feeling about everything functioning well on Mars. «I am thankful that I have the chance to work on products that fly to foreign worlds. Not many people get that opportunity.»
«Inspiration doesn't come from a blank sheet of paper»
Robin Phillips, Head of SpaceLab
«I believe that inspiration doesn't come from a blank sheet of paper. That's why I have collected a lot of interesting motors and components at my workstation. It was one of these components that gave me the key idea for the brushless drive that is now used in NASA's Perseverance rover. This vehicle will collect samples on Mars, and our motors will handle those samples. So they are critical for the success of the mission. Yes, it makes me proud to contribute to something that will help humanity learn about the solar system in which we all live. Space missions are the expeditions of discovery of our time, and can only be achieved with the highest technical standards. Our precision drives often carry out important tasks on such missions. Mistakes are not an option, and that's what makes it exciting. As head of the SpaceLab, I'm always on the lookout for new technologies for our company. I also work to create an environment for people where they can do their work as perfectly as possible. Happily, we at maxon are getting better all the time in that regard. We used to simply deliver the drives with the specified modifications and the customers were responsible for what happened next. We now have expertise in space applications and have established quality assurance processes that meet the expectations of the industry. Customers from other industries where requirements can be just as demanding, like the medical sector, also benefit from this know-how. Space projects require a lot of patience. I've been doing my job for more than ten years, but it's only now that my drives are slowly coming into use. That makes it all the more satisfying when everything works.»
«Mission: perfect gearheads»
Hannah Kleeblatt, Quality Engineer – Projects
On space projects, quality engineer Hannah has even more to do than for other applications. She writes complex inspection plans, detailed documentation, and grants approvals after conducting extensive inspections of the products and documents. In the case of the drives for Mars missions, an added factor is that the customers scrutinize everything: work steps, materials, and manufacturing methods. This is why Hannah describes such projects as an enormous opportunity for her and for maxon. The potential for learning is huge. And sometimes unconventional solutions have to be embraced. Like the time Hannah and her colleagues inspected internal gear flanges for NASA Mars gearheads – millimeter by millimeter, with an endoscope that they acquired from a nearby medical company.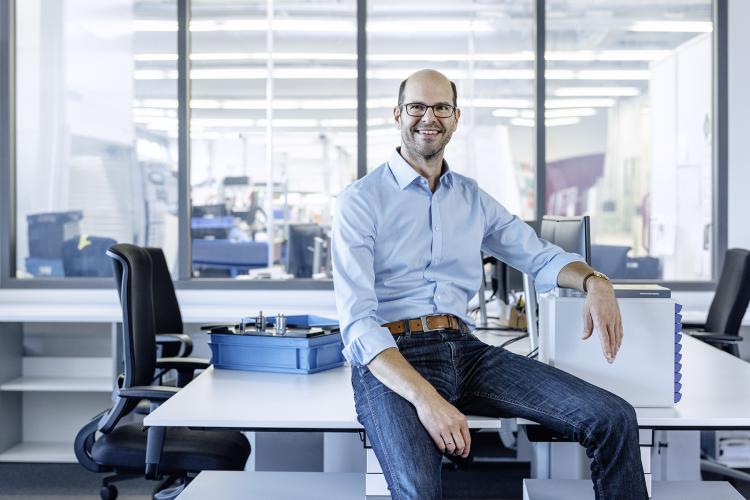 «Getting passionate about Mars»
Dominik Frey, Project Manager – Gearhead Development
Dominik has a strong attraction to Space projects, especially due to their complex requirements. As a project manager, he always has the needs of the customer in mind. At the same time, he coordinates all the departments involved - from design, to purchasing, to quality control and production - to find the optimal solution. Just like a space researcher, he sometimes encounters uncharted territory, pushing to the limits of what is possible and beyond. In such situations, he appreciates the fact that maxon gives him the freedom to get involved in technical matters and make a difference. His design ideas have already been applied in space applications - so it's understandable that he follows the progress of the Mars missions with passion.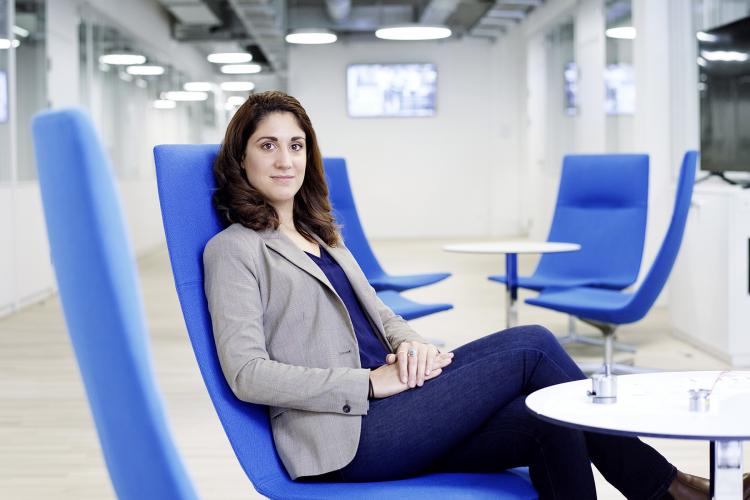 «For me, projects like the Mars-helicopter are a dream come true»
Florbela Costa. SpaceLab Project Manager
«I can't wait till the first helicopter from NASA flies on Mars. As a technical project manager in Aerospace, I was responsible for the DC motors used to control the helicopter, in its swashplate to be exact. For me, projects like these are a dream come true. Especially in cases such as this, when we're able to meet the tight deadlines and our products get positive results in all the qualification tests. It makes me very proud to be part of such an incredible operation. Something like this can only be done by many people working together, of course. In my role, I act as a link between the customer and the various departments at maxon. I make sure we meet requirements—in terms of quality, deadlines, and cost. I like being in contact with all the people involved at maxon, from development through to production. I also like space projects, as the aerospace industry has always fascinated me. They are different from other applications, above all because of their generally higher quality requirements for things like resistance to vibration and temperature. Consequently, everything needs to be analyzed and tested. Parts used in our standard motors are reevaluated to make absolutely certain that they will function in space or on other planets. It's a lot of work, but it's worth it.»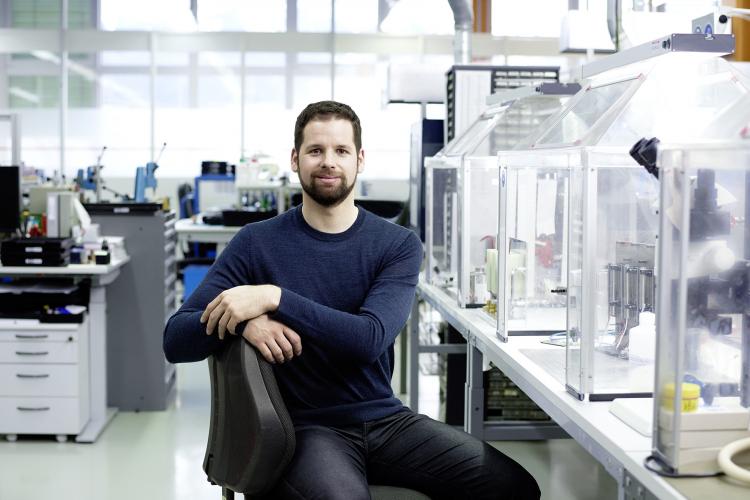 «Our drive has to work, otherwise the entire mission could fail»
Dominik Omlin, Production Engineer Aerospace
«When making motors for Mars, nearly everything has to be done by hand. Every move and every assembly step have to be documented and has to be right—we can't afford to make mistakes. We're working with materials that you can't just get from the warehouse. At the back of my mind, I'm aware that on Mars there is no way to fix things. Our drive has to work, otherwise the entire mission could fail. So we talk to each other about everything, discuss the next steps, and work with strict double checking by a second person. Our team in Special Production assembles motors and drive combinations for space applications. But not only that. We also handle orders for the medical sector, robotics, and other industries. Every project is different, so we have broad knowledge of the maxon motor range. As an aerospace production engineer, I have many tasks. These include creating detailed process descriptions, producing the drives, training employees, and working closely together with the engineering department. Sometimes I'll spend several hours in the cleanroom, where the motors are protected from particles. I can concentrate on my work there. That's not always easy when you have someone looking over your shoulder—which was the case for the Mars 2020 project. The specialists from JPL, our client, worked closely with us and visited us at our headquarters several times. We discussed the challenges with them and worked together to find solutions. Yes, I am proud to be a small part of these space missions. I can see how very grateful the customers are for what we do. That makes the work even more satisfying.»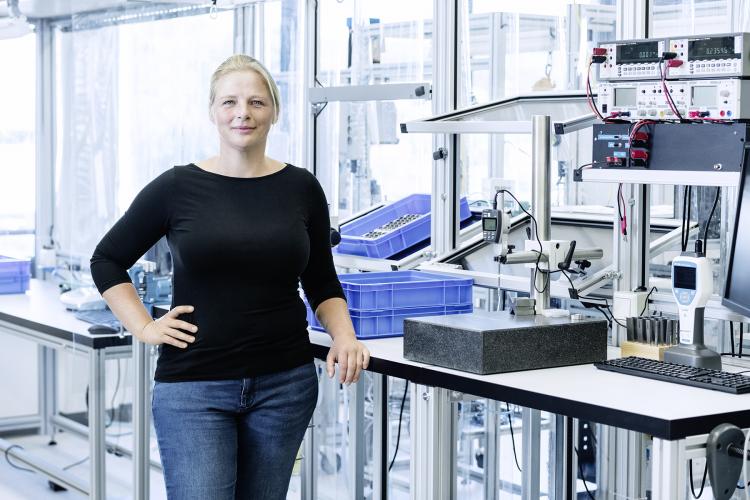 «Outside our comfort zones is where we develop»
Kathrin Tschersich, Head of Project Sample Assembly
Kathrin highly values the fact that, in her work, one day is never like any other. With her project sample assembly team, she makes individual gearheads or systems that consist of motor, gearhead, encoder, and more. There are always challenges, no matter whether it is a project for a space application, medical technology or industrial use. But from a technical and organizational perspective, her team has never learned as much as they did during the Mars rover project of the European Space Agency (ESA), for which maxon is supplying complete drive units. «These space projects show me that you can only grow if you leave your own comfort zone. It fills me with pride to know that products that have passed through my hands will one day be in action on Mars.»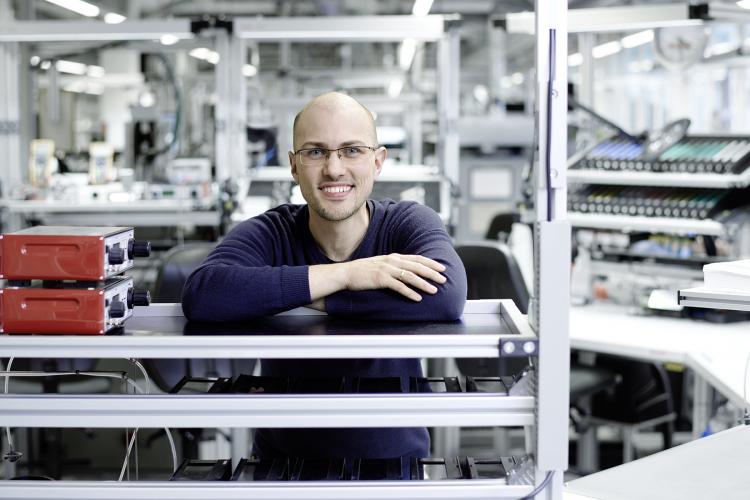 «We push the limits of what's possible»
Aiko Stenzel, Aerospace Design Engineer
«For the last seven years, I've had the privilege of building brushed DC motors for various Mars missions. It all started with the ExoMars project for the ESA, where I was responsible for 13 different drives. These included the innovative wheel drive on the rover, which can lift its wheels on rocky terrain. We developed a new, purely magnetic cogging torque brake for that. The idea is to stop the rover rolling down slopes. However, the most exciting project so far was the Mars helicopter for NASA. I had the opportunity of developing a maxon DCX 10 drive for control of the rotor blades. Six of these small direct current motors were needed. The biggest challenge was the extreme weight requirement. We had to take off every tenth of a gram we could, so that the helicopter can fly in the thin atmosphere on Mars. It's great that we were able to find a solution with enough power to adjust the rotor blades, despite the weight reduction—and which could handle all the vibration and temperature fluctuations as well. The main difference between space drives and ones on Earth is that we push the limits of what's possible: in the engineering, the materials, and the processes. For example, we developed a special hardening process for the manufacture of shafts, to make them tougher. On top of that, there is always a lot of documentation required: detailed bills of materials, weight specifications, center of gravity calculations, surface area calculations for plastic parts, etc. It's good that many other customers can also benefit from our experiences in the space sector. For instance, we developed special welding techniques for the Mars drives which are now being used in our standard commercial production. The maxon catalog will soon also include the magnetic holding brakes that we designed for ExoMars. Pretty cool, right?»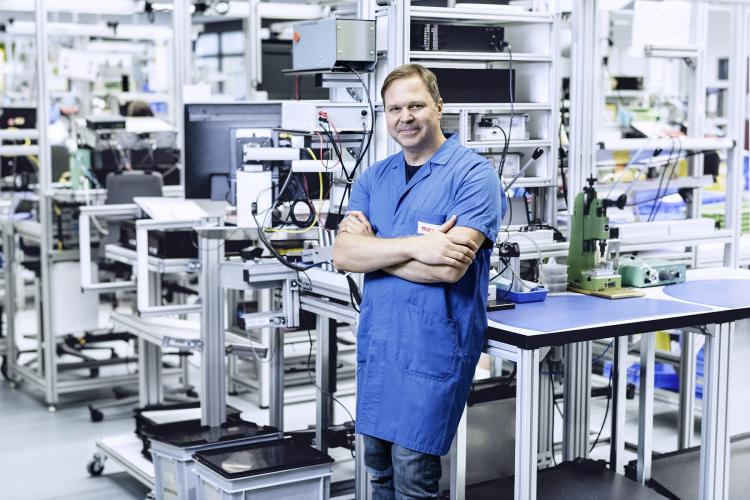 «Making sure all gears mesh»
Thilo Pfaff, Production Engineer – Drives
Where precision drives for the aerospace industry are concerned, perfect interaction of clearly and thoroughly documented work processes, systems, operating materials, equipment, and human resources is the key to success. The aim is to keep production as efficient and reliable as possible. This is the world where, as a production engineer, Thilo feels at home. He takes care of all factors that are required for smooth production and ensures that the respective standards are observed. The colleagues in
assembly know how the different work steps look and to what they have to pay special attention – for example with regard to safety or when building the drives. Thilo loves it when he can explain to his colleagues why a standard, the process steps or the precautionary measures are important and what is behind it. The fact that he is contributing to a successful Mars
mission additionally fuels his passion for his work.
Mars2020
Learn more about maxon's contribution to the current NASA Perseverance mission: mars.maxonworld.com