maxon Drive System Opens an Era for Maritime Autonomous Surface Ships (MASS). Providing a High Level of Reliability and Swift Custom Service on One of the World's Largest Container Carriers
Just as on-road autonomous driving vehicles are just about to be part of our daily lives, efforts are being made at scale to develop maritime autonomous surface ships (MASS). MASS equipped with state-of-the-art technologies and artificial intelligence (AI) is poised to provide a benchmark for ships of the future. Samsung Heavy Industries, one of the top 3 shipbuilders in the world, recently demonstrated a technology offshore that enables two different ships heading in different directions to detect each other and avoid a collision automatically. With MASS on the horizon, let's dive into what role maxon products play as they are incorporated into Samsung Heavy Industries' electronic outlook systems.
Smart ship electronic outlook system
Most maritime accidents occur in the form of collision and due to human errors. Despite multiple devices deployed on ships that are designed to predict a collision, including an auto-identification system (AIS), an electronic chart display and information system (ECDIS) and RADAR, the final decision on the angle of the rudder and the propulsion of the propeller is always made based on human outlook.
To help reduce fatigue resulting from such outlook and provide information on potential collision that is hard to predict with human eyes, Samsung Heavy Industries developed an electronic outlook system. Large ships must have an ability to see its surroundings in the dark as they have to operate consecutively for one to four months. Human eyes are not helpful for identifying objects at night because they can only see under visible light. Unlike motor vehicles, ships can encounter obstacles in any direction because they do not run within physical perimeters like roads. Samsung Heavy Industries' electronic outlook system observes its surroundings with a thermal imaging camera and shows what is going on around the ship combining a panoramic view and a top view based on images from different angles of over 180 degrees.
In order to provide a stable view even on rough sea as if the ship did not move, the system translates the image from the camera into one over a fixed coordinate system using the ship's location from the inertial navigation and other detailed data. It can also deliver information on obstacles using a deep learning-based object detecting technology and increase operational reliability and efficiency by predicting the ship's and other ships' paths based on their respective historic courses and applying the possible collision data to the observed images.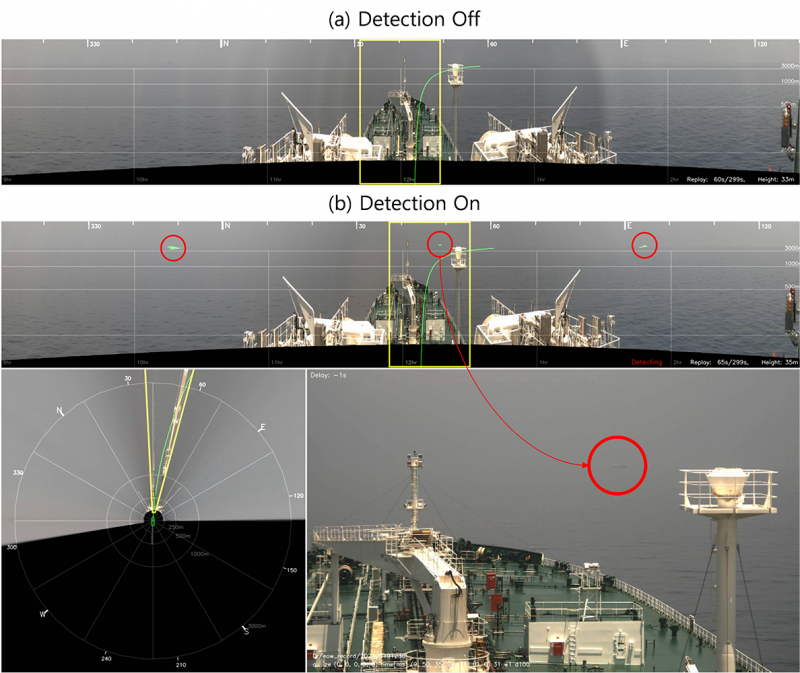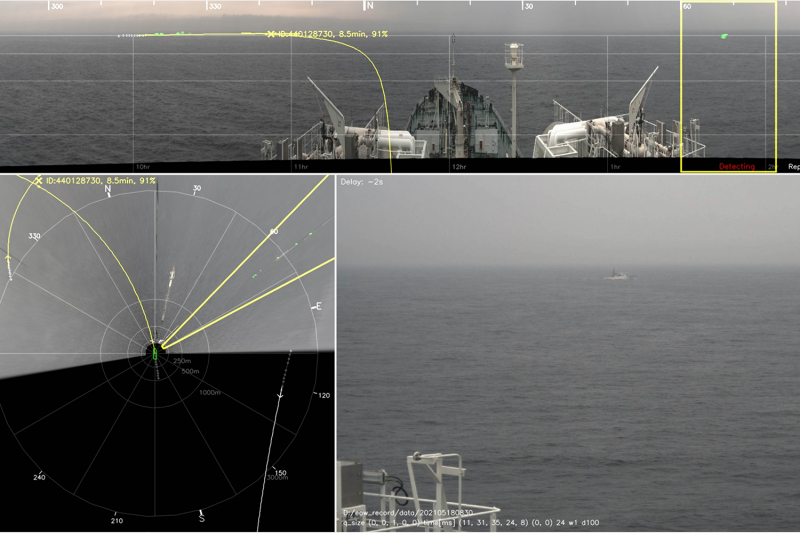 The system employs the precision rotation of an actuator consisting of maxon solution
maxon drive system rotates the electronic outlook system's visible light camera and thermal imaging camera. The outlook system captures its images from different positions by rotating a single camera using maxon drive system, thereby enhancing the possibility of detecting an obstacle. Its less use of mechanical elements also helps to minimize energy loss and maintenance costs and increase efficiency.
«We chose maxon products for their reliability»
"Reliability is the most imperative when you need to drive continuously in a harsh marine environment," said Ha Yeong-yeol, Senior Researcher at Samsung Heavy Industries. "We chose maxon products for their reliability as maxon has proved its technologies in many applications. We could achieve a direct drive system optimized for limited space by using maxon EC frameless 90 flat motor and EPOS4 module."
The System Technology Lab (STL) consisting of system technology experts in maxon Korea offered an integrated board solution to control the camera. They also implemented CANopen Master by consolidating a mother board developed based on NVIDIA's Jetson Nano and SOM (System On Module) and maxon EPOS4 control. This required another type of technical understanding and support different from what is required for the EPOS4 or ESCON based multi-axis system. The team provided CAN communication at 1 Mbps, embedded USB 3.0 hub to allow for connection between two cameras and offered a high speed digital IO port. They also delivered software that can implement CANopen protocol based on Linux Setup and SocketCAN.
"maxon's customized system solution allowed us to deploy a reliable product quickly," said Ha.