Innovative aircraft from Swiss startup Dufour Aerospace with electric drives combines the best of both worlds. The cross between drone and helicopter could mean significantly faster and more efficient air emergency operations.
At 4,634 meters, Dufourspitze is the highest mountain peak in Switzerland. It is named after engineer, topographer, and army officer Guillaume Henri Dufour, who in 1864 chaired the first Geneva Convention, which led to the establishment of the International Red Cross. Two good reasons why the name is a perfect fit for Dufour Aerospace. The startup founded in 2017 has high-flying ambitions, and develops and builds innovative aircrafts in pursuit of its goal. "We want to bring together the worlds of drones and manned aviation," says Jasmine Kent, co-founder and CTO of Dufour Aerospace, which is headquartered in Valais. In addition to opening up new possibilities for logistics, the company also aims to revolutionize emergency operations.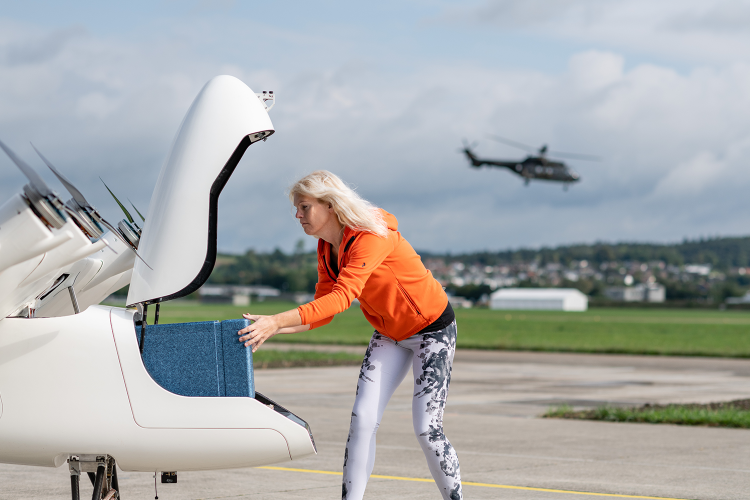 Anyone who looks at the Aero2 inevitably tilts their head to the side and frowns. This is then followed by deep contemplation. The combination shown in the photo has never been seen before. It's like a picture puzzle featuring a mash-up of a helicopter and an airplane. The Aero2 is a multi-purpose aircraft with hybrid propulsion module that, thanks to tilting wings, can take off and land vertically without a runway like a helicopter, but flies like an airplane in the air at speeds of up to 170 km/h. The small unmanned multi-purpose aircraft is robust and has a payload of up to 40 kilograms, a maximum take-off weight of 150 kilograms, and a maximum flight time of three hours. VTOL aircraft (Vertical Take-Off and Landing) are extremely maneuverable and offer significantly lower operating costs than a commercial helicopter. Electric drives offer energy efficiency of 90 percent compared to 40 percent for combustion engines. Electric motors have fewer parts and need little maintenance.
«Finding the best parts, in other words the most powerful components, is a constant challenge.»
Every gram counts
In the case of electric motors in particular, "finding the best parts, in other words the most powerful components, is a constant challenge," says Kent. "We count every kilogram, even every gram. Every increase in performance helps us and is very welcome." The certification process for the Aero2 is currently underway. That's the main focus, according to Kent. Compared to the Aero3, which is intended to transport up to eight people and larger payloads, the road to series production for the unmanned aerial vehicle is somewhat easier. On the one hand, the development costs are lower and, on the other, there are far fewer regulatory and bureaucratic hurdles to overcome. The makers are in no doubt as to the Aero2's enormous potential. "It is the perfect tool for applications in logistics, topographical surveying, mappings, measurements, and public safety," says CEO Thomas Pfammatter. The company's first customers feel the same way. Under a partnership agreement, Dufour has already sold 100 Aero2 and 100 Aero3 aircrafts to Blueberry Aviation. The global commercial aircraft and helicopter specialist will provide marketing advisory services to Dufour Aerospace. "We're extremely proud of this partnership," Kent emphasizes.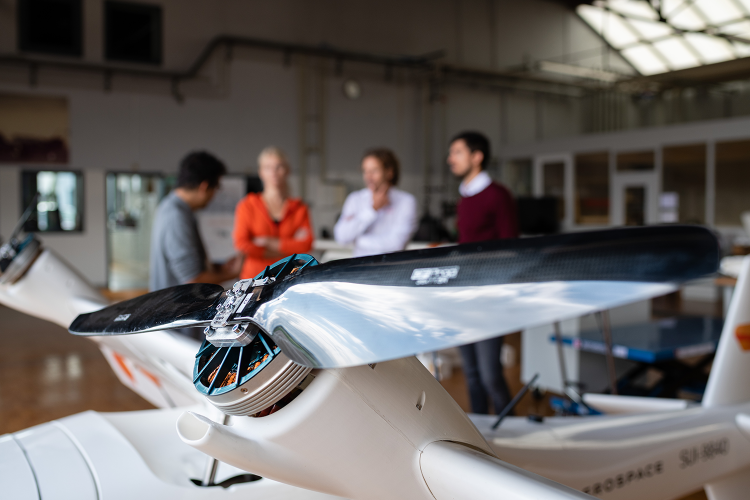 There's another reason to prioritize unmanned aerial vehicles. With the unmanned Aero2, the development of flight control systems is becoming faster and less expensive. With these successes, the startup can continue to attract equity capital for the Aero3 and bring in investors from all over the world. "Because the US venture capital market in the field of aerospace technologies is already somewhat saturated, these investors are also increasingly looking at startups in Europe," says the expert for onboard digital control systems, software, and automation. The American was a software developer at Google for many years before founding Dufour in 2017 together with Swiss colleagues Thomas Pfammatter and Dominique Steffen.
Both innovative aircrafts could revolutionize future rescue operations and open up a host of new possibilities. The major advantage that the Aero2 has compared to drones is that the operator doesn't have to first travel to the site with the device and equipment. The Aero2 can be equipped with everything necessary and controlled from a central location. Medical devices or blood supplies can get to where they are urgently needed in record time. Emergency doctors can use the Aero3 instead of traveling by road in an ambulance. Apart from avoiding possible traffic jams, this would also save time, money, and, most importantly of all, save lives. More information: dufour.aero
Latest issue
Read the current issue of maxon's driven magazine featuring exciting stories, surprising facts and interesting technical articles on all aspects of drive technology.
Read driven from our website: maxongroup.com/driven