When an international law firm wanted an art installation to grace its London headquarters, it turned to sculptor Daniel Chadwick. maxon drives allow this sculpture to challenge gravity.
Paul Hastings LLP wanted a spectacular showpiece for the entrance of its contemporary offices. "We wanted something different, something unique for our flagship offices."
Daniel Chadwick is known for his kinetic work, creating dynamic moving sculptures and mobiles. He has worked with maxon since 1990. Incorporating maxon products means there is no noise, and the movement appears effortless – an essential requirement for this type of installation. The sculpture Daniel created for the international company, titled Gravity, is vast, with the longest arm coming in at over 20 feet. Daniel explains, "It is resting in space as if it is fighting gravity. The arms are the elements, and the motion is defying the gravitational forces with its finely-tuned balance and smoothly controlled movement."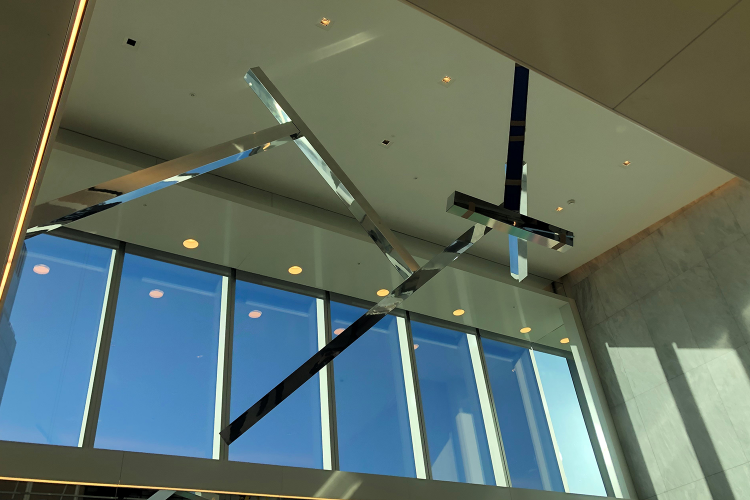 Gravity uses four brushed maxon DCX motors and GPX gearbox combinations, ranging in diameter from 14 mm to 35 mm, coupled via clutches to the moving arms. This range of products is available to configure online and only takes eleven days to manufacture. The mobile was made in its entirety at Daniel's workshop in Gloucestershire. It was then transported in pieces, the size of which was determined by the size of the service lifts. It was assembled, like a giant logic puzzle, in the rafters of the Bishopsgate building. The mobile is continually moving in random directions. The drives are controlled by maxon's motor controllers and Arduino programmers, allowing them to speed up smoothly, slow down, pause and randomly reverse direction. The arms float near and then rotate back like a living creature with a mind of its own.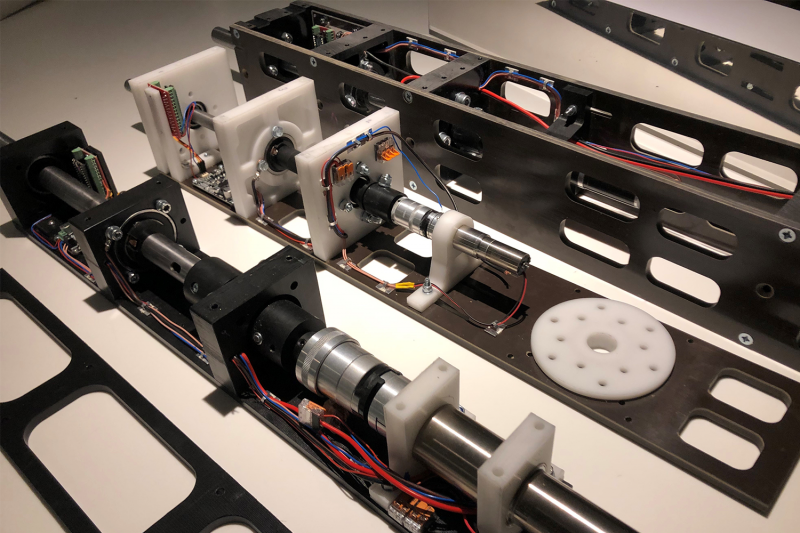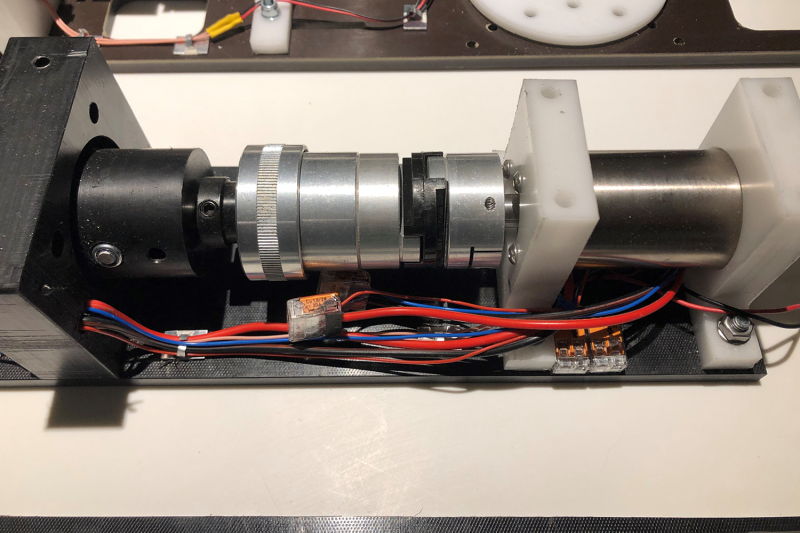 «Our DCX/GPX combinations were perfect for this»
Matt Dean, Sales Engineer at maxon, says, "If you look closely, the motion in the sculpture is perfectly smooth; that was key to Daniel's requirements. If the DC motor were not smooth, the end of the statue would be very jerky and evident to the eye as the arms are so long. Our DCX/GPX combinations were perfect for this."
Gravity has just celebrated its first anniversary following a year of faultless operation. For Paul Hastings LLP, "'Gravity 2019' has created an amazing experience for visitors and staff alike".
Watch Gravity in motion
Gravity 2019 from Daniel Chadwick on Vimeo.