Robotics and automation call for increasingly precise control engineering. Daniel Hug, Product Manager for Electronics and Systems Technology at maxon, explains what a good motor controller has to be able to achieve today.
Daniel Hug, motor controllers have become better and better over the years. What does this look like in practice?
The rapid changes in information technology have also led to the rapid development of opportunities for controllers. To put it bluntly, in the past it was simply about leaving the motor running. Today's requirements are more complex. Topics such as diagnostics, networking or functional safety are becoming increasingly relevant – it is no longer just a matter of controllers in the narrower sense, but rather small complete systems.
What should a good controller be able to do today?
On the one hand, a good controller must offer a lot of functionality and flexibility of use. On the other hand, it must be easy to commission and operate. This is one of the major challenges that manufacturers of controllers currently face. Efficiency and compactness are also often determining factors.
maxon motor has a variety of motor controllers on offer – what are the current top sellers?
Our portfolio covers everything from simple current and speed controllers to highly dynamic motion controllers. And last but not least the motor-integrated controllers.
But the EPOS product line remains our backbone. What's so great about the EPOS productline?
EPOS stands for Easy to use POsitioning System. This is our maxim. The customer should be able to very easily obtain a high-performance positioning system with DC and BLDC motors without an in-depth knowledge of drives. The following three components are particularly important:
The EPOS Studio: An intuitive graphical user interface (GUI) with many small tools such as the Startup Wizard. This guides you step by step through the whole configuration from A to Z so that nothing is forgotten. Or Auto Tuning. This configured system automatically searches for the ideal control parameters at the touch of a button and after this is ready to use.
Comprehensive documentation with our strong support.
Numerous libraries for integrating EPOS into a wide variety of systems and a host of practical examples.
We other all of this free of charge. Competitors can often only offer parts of this, for which there is usually also a charge.
«A good controller must offer a lot of functionality and be easy to commission»
The new EPOS4 positioning controller is available from April 2016. What has changed?
The new feature of the EPOS4 is the very high power density. By optimizing efficiency and a well-conceived thermal design we achieve maximum output power in an extremely small space. EPOS4 also others a modular expansion concept for Ethernet-based interfaces such as EtherCAT as well as various absolute encoders. The customer can then put together his own optimum system and only pays for what he actually needs. We are also offering new features.
Where should EPOS4 be used?
EPOS4 will form a complete product line. We cover the whole range of motors available at maxon – and all areas of application too. EPOS4 is suitable for applications where a cost-effective, high-performance torque, speed or positioning controller is required. A controller which is easily integrated into a variety of master systems, whether as a single-axis system or for complex multi-axis applications.
What are the advantages for the customer when he uses maxon controllers?
The major advantage is the optimum coordination of the individual components. In practice, controlling our highly dynamic low-inductance motors in particular requires a suitable controller in order to be able to really take advantage of the benefits of our drives. This is where many products fail, at the latest during manual fine-tuning of the controller. Our algorithms for automatic tuning developed over a number of years, on the other hand, make this step very easy.
Do you also offer customer-specific solutions?
Of course! In fact the majority of our controllers sold are customer-specific solutions. The range is enormous: from a small firmware adjustment which makes sense for small quantities, through to tailor-made, complete application solutions – also in the high-volume range. A specific solution may make sense wherever a catalog product does not fully meet customer requirements. Here at maxon we can call on a strong engineering team and many years of experience.
What are the challenges when customers come with specific wishes?
The biggest challenge is defining the requirement together with the customer to find as ideal a system solution as possible. Often the customers is not aware of all the options. We can then lay the foundations for added value in the discussion.
How do you ensure local and good customer service?
We have our own team of application and support engineers for this. They look after our Service & Support Desk, an online-based tool which is available to customers for enquiries at all times (support.maxonmotor.com). Together with our application specialists on site, we create a global and competitive network which can quickly respond to customers' wishes. A good controller must offer a lot of functionality and be easy to commission.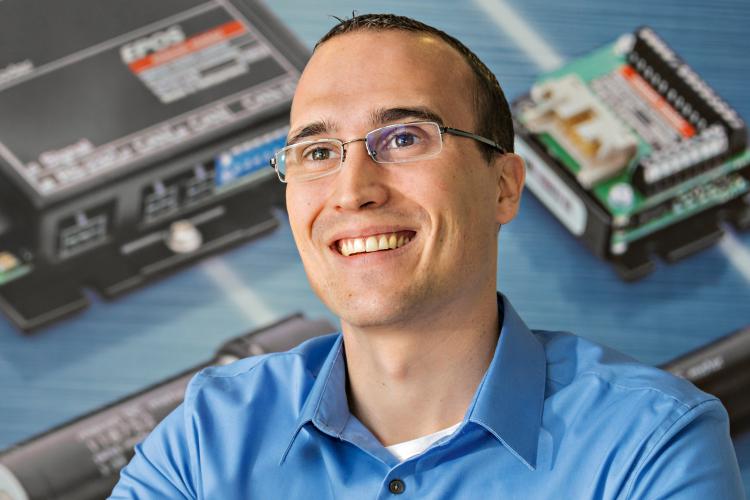 Daniel Hug is Head of Electronics Product Management at maxon motor. As a graduate electrical engineer with many years of experience, he is responsible for the product design and for the implementation of development projects – from the idea to the finished drive solution.
maxon motor control
For over 25 years maxon motor has also been focused on the area of motion control, the dynamic control of brushed and brushless DC motors. The goal is to be able to offer the customer an optimum system solution with all drive components: from the gearhead through the motor with a sensor to the suitable controller. To this end, a team of around 40 employees is dedicated to the full development and support of a wide variety of motion control products and customer-specific solutions. In this area, over half a million products from simple current or speed controllers through to multi-axis, highly dynamic controllers are sold every year.