XSun designs and manufactures a drone that is both energy-independent and can make its own decisions, for fully-automated missions. The company needed reliable, high-performance sub-assemblies to design it's SolarXOne. This is why the start-up approached maxon for the propulsion system.
Benjamin David, benefiting from a decade of experience at Airbus Defense & Space, created the company XSun based on a rather simple idea: Adapting space technologies for use at lower altitude. This approach produced SolarXOne: A solar-powered, electrical, self-contained drone with a tandem wing design. SolarXOne, with its dragonfly-like design, has excellent aerodynamic performance and a large surface area of solar panels, to collect as much solar energy as possible. This is all within a very high-performance, fully-electric environment.
"We firmly believe that a combination of new technologies and renewable energy sources will best meet current environmental, economic, and societal challenges," says Benjamin David. He also points out that solar power increases the on-board battery life by a factor of 3.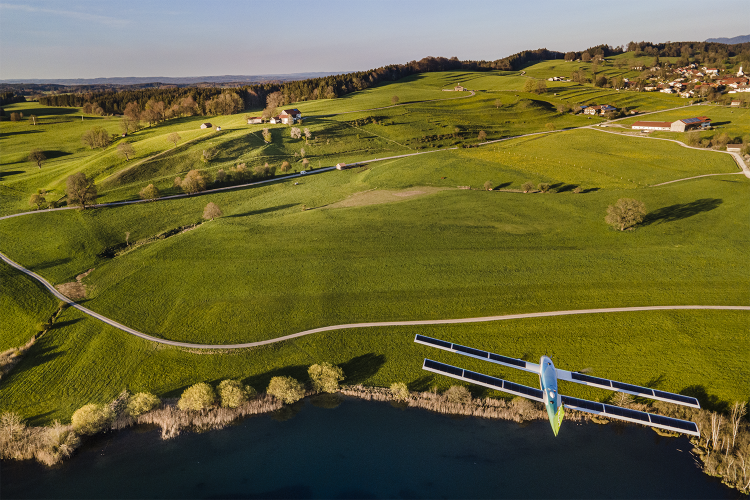 Just like a satellite, SolarXOne is packed with technologies. Half airplane, half drone, this UAV weighs 25 kg, has a 4.50 m wingspan, and is innovative in several ways:
Easy to use: SolarXOne is as easy to operate as a drone, but with the high-performance of an aircraft.
Fast deployment: Ready to fly in 30 minutes.
Range: 12 hours of non-stop flight.
Silent: As the drone is fully-electric, it flies without making any noise.
Excellent handling: This is due to its aerodynamic configuration combined with the technical choices implemented.
Reliable: Back-up systems to ensure a high-degree of reliability for users.
Low-maintenance: All-electric devices require little maintenance.
Ability to fly day or night: On-board batteries that are charged by solar power.
Exceptional payload capacity: Gyroscopes, high-performance cameras, thermal imaging cameras, LIDAR, etc.: SolarXOne can carry up to 5 kg of payload, including the latest communication and safety technologies.
A system compliant with aeronautical standards: This means the UAV can be certified to the highest level and easily obtain flight authorization worldwide.
A wide range of applications
SolarXOne, with a daily flight range of 600 km, can fly over thousands of acres, producing image resolution of cm accuracy. Consequently many sectors are interested in the drone for a wide variety of missions:
Mapping and topography of large areas on land or at sea, such as nature reserves,
Very high-resolution photographic surveys for large-scale linear infrastructure (pipelines, electricity lines, roads, rivers, etc.),
Photographic surveys for precision agriculture, in the context of forest mapping, for example,
Monitoring and inspection missions.
XSun markets its drone, but also offers SolarXOne services via its operations team. The team flies the drone on behalf of clients who just want to collect data.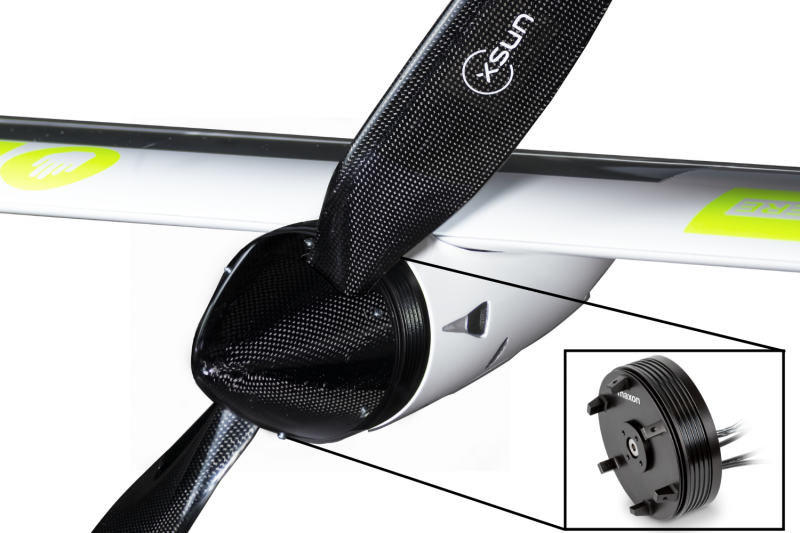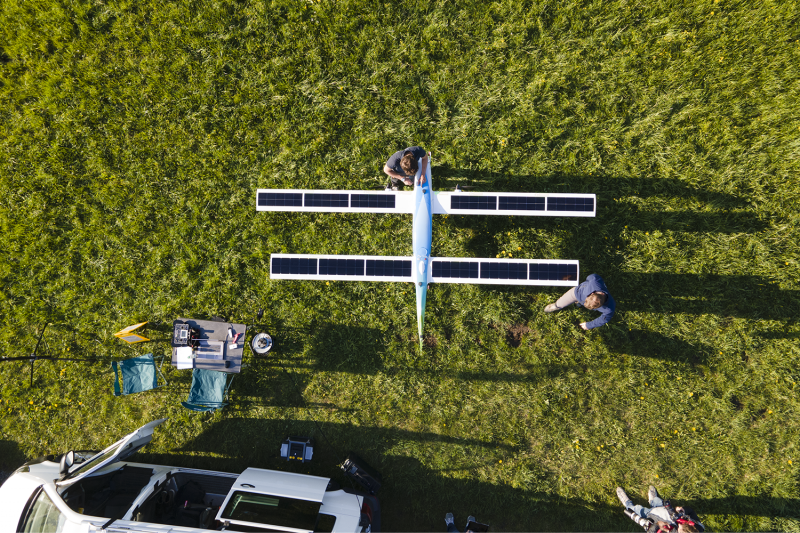 "maxon is definitely the best"
Efficiency, quality, reliability, and durability. Those were the guiding principles of the SolarXOne design. "Because of the fully electric design, we had to strive for cost and energy efficiency in every assembly. This is why it was essential to work only with the best, and that means maxon for the propulsion system," says the founder of XSun. For propulsion, the challenge was to find the most reliable, highest performance, and smallest systems possible, with virtually the same requirements as in the aerospace sector. "In those three areas, maxon is definitely the best. There are very good reasons why they supply NASA with its robot motors! We were delighted to see maxon enter the drone market, and our collaboration was set up very quickly," adds Benjamin David.
Every aspect of the technology had to be pushed right to the limit for the drone to be able to fly completely independently for over 12 hours. XSun took advantage of maxon's expertise in the following three areas:
Controller
Motor
Propulsion
«A genuine technological challenge!»
"From an energy point of view, the aim was to keep consumption as low as possible while remaining as light as possible: a genuine technological challenge!", recalls Michael Niemaz, Aerospace Project Engineer at maxon, who has been working with XSun since 2019. Back then, maxon had just released its first drone motor range. To meet XSun's requirements, maxon adapted one of its brushless drone motors, the ECX 87 Flat.
Luise Löskow, Aeronautics Project Manager at maxon, says: "When we started working with XSun, the design of this type of motor only existed in its basic form. This is why we had to customize a product that was still under development, to which we had to incorporate new features such as sensors. Our experienced team (design engineers, test engineers, quality engineers, purchasers, and production operatives), had in-depth discussions about the various technical requirements and problems, so as to find appropriate solutions. Finally, we increased the power of the ECX87 Flat motor and modified its winding for optimum propulsion. SolarXOne is now equipped with two adapted ECX87 Flat motors positioned at the front of the aircraft."
"For SolarXOne to be able to fly over cities in total safety, XSun wanted to have its drone certified as far as possible. This where maxon's expertise played an important role, because we provide a build quality that guarantees a sufficiently reliable motor to be certifiable in the future," Michael Niemaz pointed out. The founder of XSun agrees with this, adding: "It would have been hard to achieve the same level of quality with a partner other than maxon. Very few companies would be able to provide a highly detailed 25-page test report!"
Ever since they met at the Paris Air Show in 2019, the maxon and XSun teams have been working in close collaboration. In July 2020, for its first long-range solar flight, the SolarXOne succeeded in flying silently for 12 hours without any CO2 emissions, and completely independently. Since then, it has completed operational assignments for various clients in France and other parts of Europe.
For more information, visit: XSun.fr