Most people take showers to clean themselves of sweat and dirt. However, one Swiss company wants to turn showering into an event and has therefore developed a system incorporating a massage brush. High-quality DC motors ensure perfect rotation.
Most people love to take a shower in the morning. Water, shampoo, done – ready for another day. For some though, this isn't enough, they want a genuine wellness experience with every shower they take. A Swiss company is fulfilling that demand: The company Aglaja has developed a shower system that provides a soothing brush massage. It is battery powered and can be installed in any shower.
The rotating brush is adjustable horizontally and vertically and perfectly adjusts to the body. It automatically moves up and down a rail and can be set using a remote control. Personal massage programs can be configured and run at any time.
As Bruno Oberli, the owner of Aglaja, emphasizes, a brush massage during your shower isn't just pleasant. It is also good for your health by stimulating circulation and vitalizing the skin. Regular massages also help to relax the back and neck area.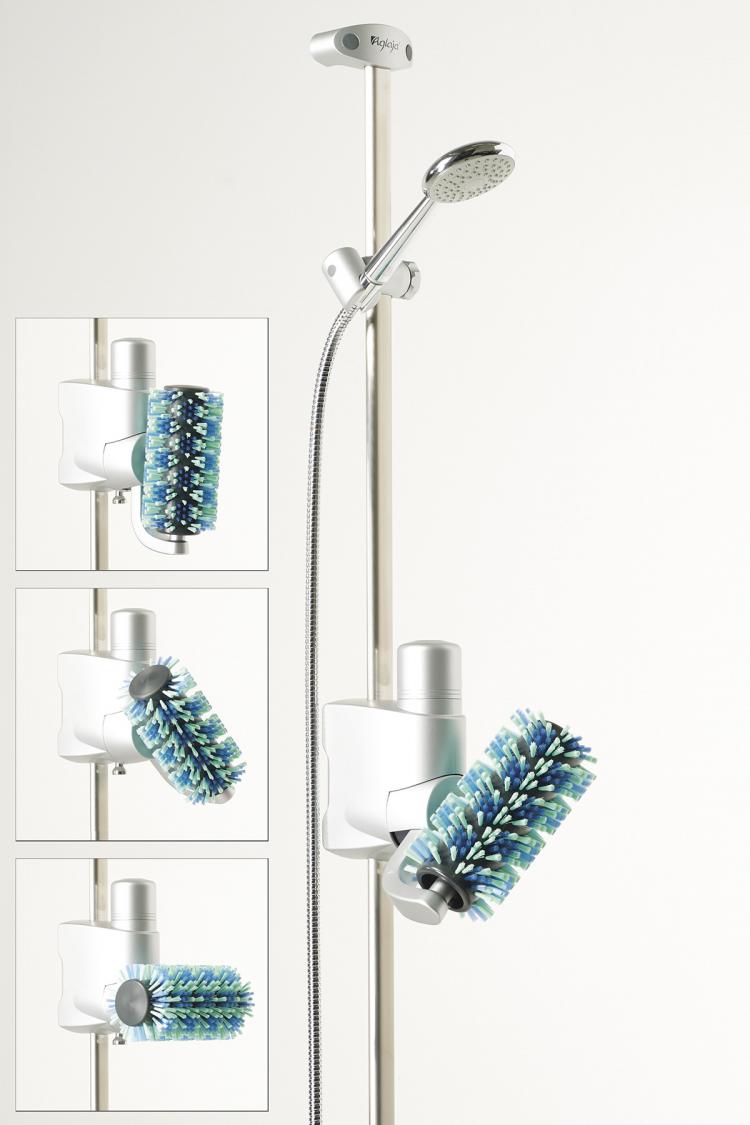 Reliable motor-gearhead combination
Aglaja uses one high-quality maxon DC motor with planetary gearhead for the brush rotation and one for the automatic height adjustment. The brush rotation is powered by an A-max 32 in combination with a GP32 planetary gearhead. "We've been using this drive for ten years now, and it is absolutely reliable," Oberli says. "And this despite the not very motor-friendly operating conditions in a shower, with its humidity, steam, and cleaning products."
For the height adjustment, Aglaja uses a brushed (precious metal) DCX 22 S with a GPX 22 gearhead. This 9 W drive is one of the newer maxon motors that can be combined online in a few steps. Bruno Oberli is happy with his choice: "The performance of the DCX 22 is outstanding."
"Almost like friends"
The company Aglaja takes care to ensure that its shower systems are made using high-quality components. Accordingly, Swiss quality and components are important. However, this wasn't the only reason the company chose maxon as a partner, Bruno Oberli explains: "maxon gave me a very warm welcome when I first visited. The chemistry was just right. I appreciate the quick, thoughtful, and solution-focused service – and the fact that we're almost like friends." His conclusion: "Besides supplying quality motors, maxon has proven itself to be a partner that we can rely on at all times."